We believe those responsible for governing the #Aadhaar scheme need to be held accountable for the mounting exclusions, the continuing data breaches and security lapses, and not least for violating SC orders time and time again. #PeoplesAgenda2019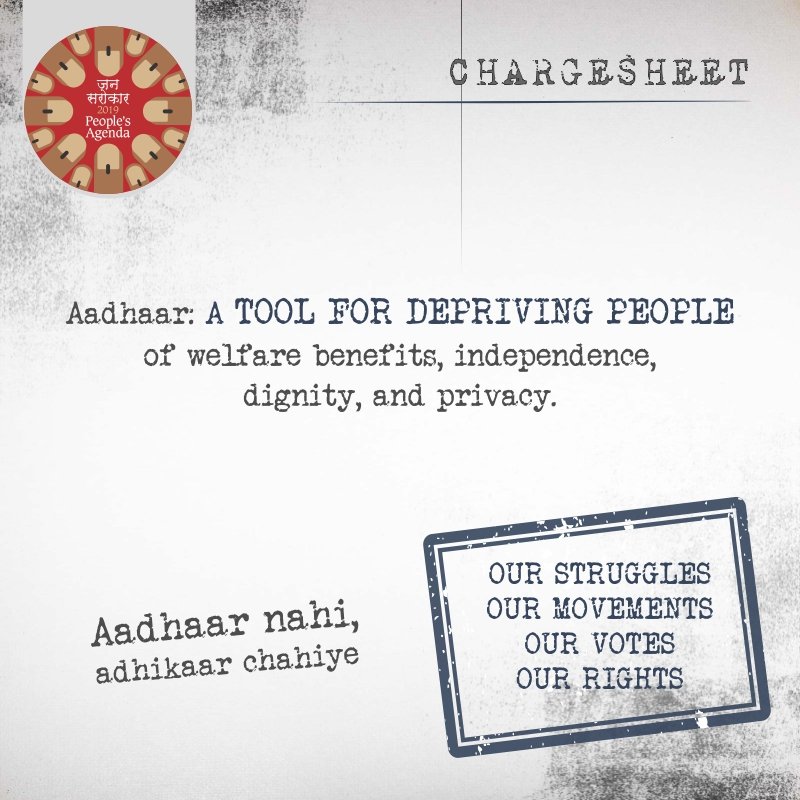 Our manifesto of demands includes:
1. Revoke the Aadhaar (and other Laws) Amendment Ordinance, 2019.
2. Repeal the illegally-enacted Aadhaar Act, and launch a public consultation on the future of the Aadhaar scheme.
3. Immediately halt Aadhaar enrolment, update & authentication activities, and launch a full public audit of the UIDAI, its partners & contractors.
4. Identify & compensate all beneficiaries of all welfare schemes who have been denied their rightful entitlements due to Aadhaar-related issues.
5. Implement an independent audit of Aadhaar data held by public and private institutions, & mandate the complete and irrevocable deletion of: a) Aadhaar data held by public institutions for any purpose b) Aadhaar data held by private parties for any purpose
6. Prohibit the collection, storage or use of Aadhaar for any purpose – Aadhaar possession or enrolment will not be made a condition for access to any government service or benefit or the performance of any legal duty.
7. Institute an immediate and universal opt-out facility allowing any Aadhaar holder to exit the Aadhaar scheme (including complete and irrevocable deletion of all data held by all organisations), and…
7. (cont.) … require the UIDAI to obtain consent to continued Aadhaar possession from all other existing Aadhaar holders within 12 months (barring which their Aadhaar information will be deleted).
8. Indemnify all citizens against any legal or administrative action for any prior failure or refusal to enrol for or provide an Aadhaar number.
9. Publish details of all recorded Aadhaar data breaches, and inform all Aadhaar number holders affected.
10. Consult on the drafting of a privacy and data protection law based on the recommendations of the AP Shah Committee.
11. Immediately withdraw all FIRs and charges filed against journalists and security researchers who have brought to public attention the lapses in security of the Aadhaar ecosystem.
The Aadhaar scheme is best described as "a lot of pain with little, if any, gain", especially since there has been no transparency over the costs of the scheme to Indian taxpayers.
In the absence of accountability, citizens have no choice but to ask for the complete shutting down of the #Aadhaar scheme. #PeoplesAgenda2019 Join us for Jan Sarokar 2019 at Delhi's Talkatora Stadium tomorrow, April 6th, from 10am to 5pm.
— source no2uid | 5 Apr 2019